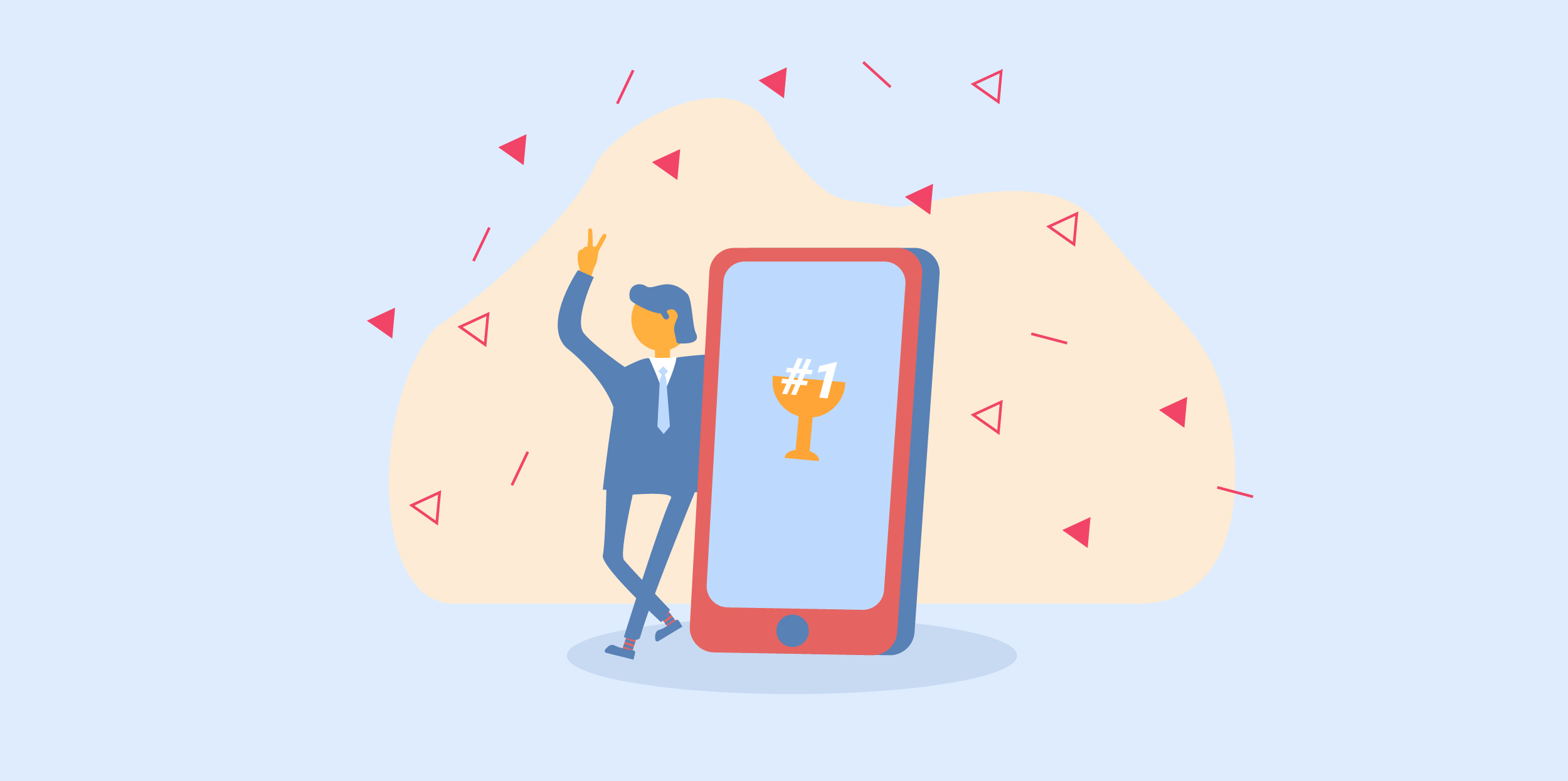 Is your mobile app ready to launch? Congrats, the most difficult part is already behind you. Well, almost. It's high time to learn more about mobile app marketing and let your app finally see the light of day.
Why is it important to promote your app?
Technically, a good product can defend itself. But, before it has a chance to prove its worth, it has to reach the target audience. Without any marketing activities and proper App Store Optimization, developing mobile apps simply has no point. Since there are so many different apps out there, yours can easily fall into the abyss of App Store or Google Play. And stay there forever.
How (and when) to promote your app
Although a suitable marketing strategy will definitely help your app succeed, the opinions on when to start promoting an app vary. The campaign should be planned well in advance, but it's better to avoid its premature launch. If you let the potential users wait for too long to test the app, you will eventually lose their interest - that's why you shouldn't create buzz when your app is still not ready for it. Once you're certain it is, though, don't hesitate! Play your cards right and get people excited about a brand new app.
Mobile app marketing in a nutshell
Create relevant content
Content is king. If you haven't heard that sentence before, it's time to catch up. Writing and optimizing the content about your app for search engines (SEO) and app stores (ASO) is key to your mobile app marketing strategy - provided that your app is useful and engaging. Even the best content won't help much if your product is not good enough and won't meet users expectations once they download it.
On the other hand, even the best app won't gain popularity if no one ever finds out about its existence. Investing in SEO and ASO can make a big difference in terms of the visibility of your app. Luckily, optimizing your content is not rocket science. But what does it mean to optimize anyway?
No matter the purpose, relevant content should always include certain keywords. The optimization means not only choosing them wisely and putting them into the text, but also keeping the content well-written and engaging. Of course, the choice is not that simple. Optimizing for very popular and inadequate phrases has no point, so you should take into the account the ratio of the search volume to the competitiveness - the lower the competition, the better. To check those, you can use Google Keyword Planner, SearchMan or AppAnnie, among others. Make sure you do your research first - get inspired by your competition and check what exactly your target audience searches for.
Although you can choose different keywords, try not to use too many. Remember that your text should not only be well-optimized, but also sound naturally. Select the most important keyword for your app and include it in every piece of content you create - including the app description in app stores. Speaking of - you can read more about App Store Optimization on our blog as well.
Take advantage of video marketing
The visuals you create affect not only your app store presence in general, but more importantly - how attractive your app seems to users at a glance. Make sure all images are consistent but be creative as well. Eye-catching icon, well-designed visuals, and catchy name are not the only elements that matter, though. There's no better way to attract users than uploading intriguing trailers and video instructions - short videos and animations simply prove to be more accessible and interesting. Plus, there has to be a reason why video marketing is more and more popular these days. It's worth taking advantage of the growing interest in video content - especially, since you can use Biteable or Lumen5 to create your first videos, free of charge. You can also monitor how well the videos are doing, and optimize video marketing campaigns thanks to Wistia or Vidyard.
Grow your audience
Don't expect your app to gain popularity in an instant. Although you have to be patient, you can easily entertain yourself while distributing content in the meantime. However, when marketing your app, it's important to focus on those channels that can help you reach the right audience. There's no shame in asking for help - partner up with relevant influencers, let them test your app and share the feedback with their followers. Not everyone is made to promote mobile apps, though. Choose those influencers, who can reach your target audience, have a loyal fanbase and share engaging content. There are dedicated platforms to help you with the search - such as Tribe or Upfluence. You can also check out different app review sites on SellMyApp.
Now, there are two strategies to consider. You can either rely on less known, but more "specific" influencers, who attract certain users. This way, you will reach fewer people, but if they represent your target group - there's a bigger chance they will genuinely be interested in testing your app. You can also invest in the cooperation with much bigger players and plan complex campaigns to attract more users in one go. Actually, if your app is interesting and innovative enough, it may raise the interest of a popular influencer without having to offer a monetary compensation. Attractive content is often more important for a seasoned blogger than actual money.
Remember, though, that sending a simple request will not guarantee you a positive app review and its appearance all over the Internet. Similarly to your users, you have to attract the influencers first and then present the app well. Keep all visuals and content you created handy - it will make it easier to write the app review and share the most important details. Specifically, include a detailed app description, video tutorials, logo, screenshots, app store links, and a short bio of its creators. You can also write a press release yourself and strive for its publication across media.
Rumour has it that there are more than 30 ways to promote your mobile app. Do you need as many? It depends. Although content optimization for SEO and ASO should be the key ingredient to a successful mobile app marketing campaign, you can easily back it up with other promotional activities - single actions, paid campaigns (Google Ads or Mobile App Install Ads on Facebook, for example), video marketing and influencers. Developing an app is difficult enough, that's why you shouldn't complicate it further. Keep your marketing efforts simple, but effective - just as we do in KISS digital.
...And if you still have doubts, trust the specialists. At KISS digital, we do not only develop mobile apps but also effectively promote them. Check us out.