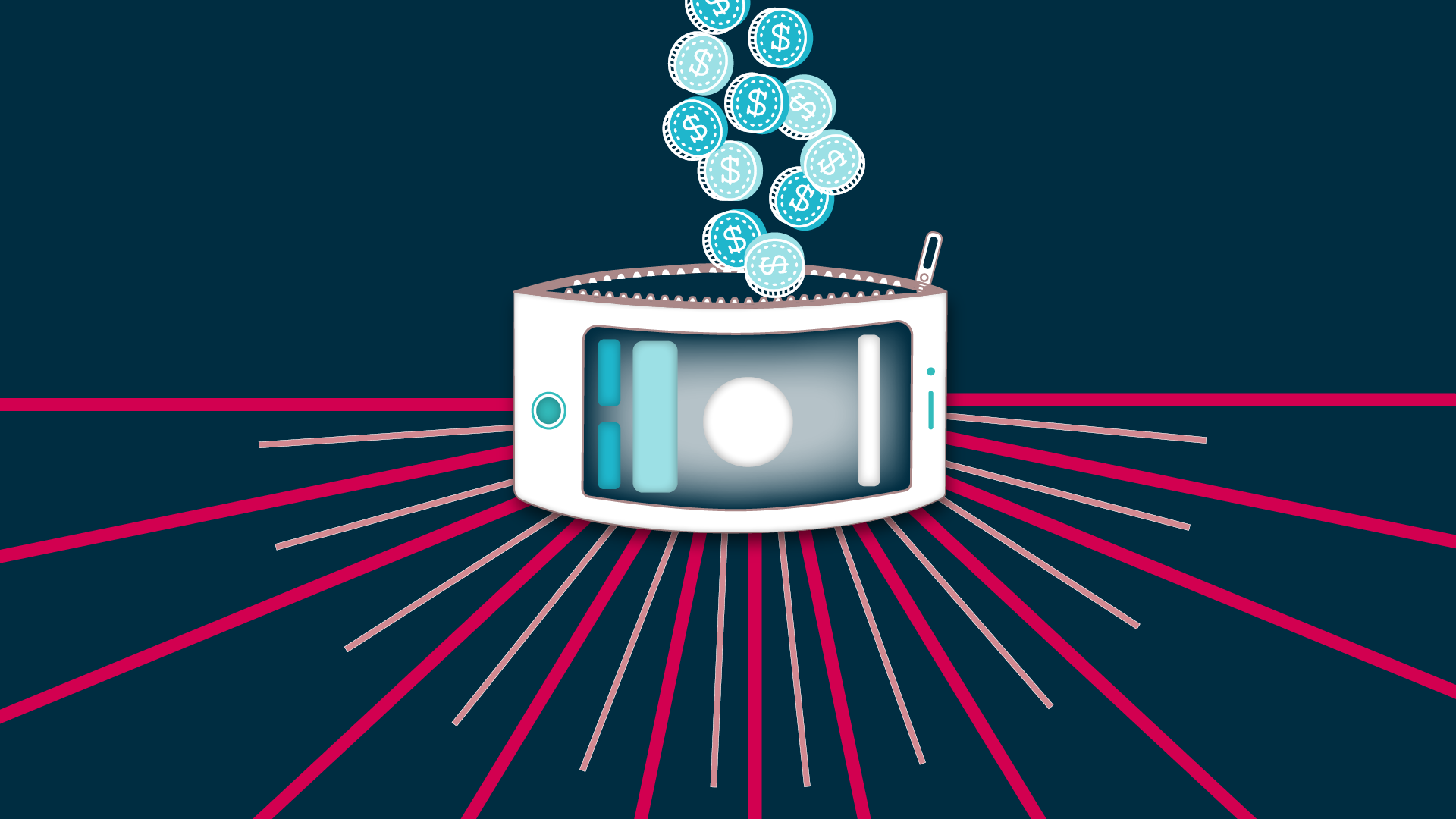 Mobile applications are used in virtually every area of life. Thus, they create wide opportunities for business. However, development costs are a challenge, as they inevitably raise the question: how to earn (a lot) on a mobile app?
This is an issue that needs to be addressed at the stage of creating an application concept, but it is also worthwhile to explore it at the development stage. The key issues you should consider when deciding to develop an application are:
What forms of monetization of mobile applications are available?
Which of them can really work with my application?
Can I introduce further forms of monetization without the risk of losing users?
Will the forecasted revenue cover the cost of the development and allow me to earn money?
Let's start with hard data. According to Statista, in 2021 the number of smartphone users will reach 3.8 billion, compared to 3.5 billion today. Currently, there are 2.5 million mobile apps available in the Google Play Store (Android) and 1.9 million in the Apple App Store (iOS) (according to "Forbes" magazine, the number of apps worldwide is 8.9 million). The average user uses 30 such platforms on a monthly basis. On the other hand, a large part of applications (25% in 2019) is used only once after being downloaded from online stores. According to The Drum and Smaato forecast, the value of in-app advertising market is expected to reach 258 billion dollars by 2025. The above figures illustrate the potential of the market, but also its limitations.
The latter is worth keeping in mind, for example, because developing an advanced native application for iOS and Android on the Polish market may cost as much as 50-65 thousand dollars, which is quite a lot. If you want the mobile application to return the production costs and start to bring profit, you need to prepare a consistent monetization strategy. You should also remember about spending on marketing activities that will increase the chances of the application for market success.
Ways to monetize your mobile application
Implementation of a functional application and its proper marketing may bring you a lot of profits, but it may also fizzle out. Therefore, before you decide to invest, carefully analyze the possibilities of monetizing your application. Here are the main ways to make money on the mobile app market.
1. Sale and subscription
Selling a mobile application is the easiest way to monetize it. In this model, users simply purchase it for a fee. If the customer pays for the application, this usually means no or less advertising within the app. However, such a model may exclude the group of recipients who prefer free applications. These users could later recommend your product to other buyers.
There is much more potential in free applications, you can monetize them, e.g. by displaying ads in different formats. In turn, in the "freemium" model, the user gets the basic functions of the platform for free, but has to pay for the upgrade.
The subscription model usually provides the buyer with the ability to disable intrusive ads and access to more features and content. The seller, having a predictable source of income, will improve the services quality. A free trial period is also often offered so that the user can see exactly what they will pay for. This solution is particularly suitable for cloud services and audio or video streaming (e.g. Spotify).
A special case is when a free application is only one of the elements of an advertising campaign (besides, e.g. TV advertising), which means that it does not have to be profitable. Such an application often supports sales in other channels (loyalty applications like Żappka, Rossmann or Delikatesy Centrum app). In this case, users willingly use this form of advertising themselves, because they can follow the brand's offer on an ongoing basis. Platforms of this type play an important role in the PR dimension – in building or strengthening the power of the brand on the market.
2. Monetization through micropayments
A common model of monetization is the micropayment system. Thanks to it, the user can, in the "freemium" model, upgrade the basic version of the platform and buy additional functionalities and resources (e.g. next levels in games), buy access to exclusive content (e.g. "premium" video in Internet media) or pay for disabling ads. If you offer part of the functionalities/content for free, you have a chance to build user engagement and encourage them to pay for further application development.
3. Advertising in mobile applications
The most popular way of monetizing mobile applications is to place in-app ads in them. In 2019 alone, spending on these formats was 190 billion dollars (globally). In this case, however, you have to take into account the negative reaction of users, too intrusive ads can discourage them from your app.
The basic formats include: full-screen advertising, banner (display), video and native advertising. However, it is necessary to neatly embed individual formats into a mobile application. The use of the display makes sense but you need to arrange it with common sense. As a guideline you may use Google's rules for websites, such as Google Page Experience.
The least irritating format is native advertising, which is an "integral" part of the application. It is contextually matched, not aggressive and does not result in so-called banner blindness. Video ads are very effective in games, where after watching the recording the user receives, for example, virtual cash "as a reward".
4. Shopping on sales platforms
In this variant of monetization, your application becomes a platform through which consumers can buy products (in-app purchase), both physical (e.g., clothes, toys) and virtual (e.g., next levels in games). Thanks to the mobile sales application you can reach more customers anywhere and anytime with your offer. It is a very good tool for the e-commerce industry as functional interface, ease of searching and reliable solutions in the field of transaction security are crucial for the user.
Affiliate marketing is also worth mentioning. Your application then becomes an advertising/sales channel for products offered by the advertiser and you receive a specific commission on every purchase. As part of this solution, contextual modules can be placed within the application to refer to the partner's offer (e.g. links referring from the travel application to the travel agency's offer).
5. Marketing analysis of user data
Mobile applications collect large amounts of user data, such as e-mail addresses, social media profiles and individual behavior. This process starts when you create an account in a mobile application. This is sensitive data, and the legal requirements for its proper protection make it necessary for you to determine which of this information will be processed, how and for what purpose.
Knowledge of user behavior is extremely valuable information from the perspective of the advertiser interested in reaching the most specific target group. The data collected in the application, within the limits of the law, can be used, for example, to create an e-mail base for advertising dispatch. It can also facilitate the optimization of advertising formats presented in the application by better matching the individual user profile.
The opportunities created in this way are used primarily by the largest companies, such as Facebook or Google, with comprehensive knowledge of users and their needs. As a result, the major players in the digital market actually become advertising publishers who are able to monetize user data and application behavior in an automated way.
6. Benefits of know-how and product customization
Another way of monetizing mobile apps is the white-label product model, i.e. selling a mobile app to clients who can change it and adapt to their needs. An example are applications with a virtual guide which can be sold to the authorities of several or more cities. Once originally branded, your application can be used by them for promoting their own brand. In this model, you share technology and part of your know-how for a fee.
You can earn not only from selling the mechanism/code itself, but also from the sponsored content within the application. In such a variant, native ads (articles, videos) work well, which are additionally strengthened by unique branding.
Another variant is the monetization of the mobile application through customization, i.e. adapting it to the needs of individual clients. An example can be an event application for organizing conferences. Customization allows to sell the technology to many entities which will be able to present it as their own tool. The buyer does not have to bear the costs of developing an application from scratch, but immediately after the purchase can use your platform to achieve their goals.
If your application becomes a well-known brand, you can sell it. This was the case with Endomondo, for example. This sports monitoring platform with 20 million users created in 2007 was bought by Under Armour in 2015. The sportswear manufacturer matched the application to its sales offer.
Another option is sponsorship where the sponsor pays for displaying advertisements or branding within your application, but does not become its owner. An example of such a marketing strategy was the cooperation between Home Depot, a chain of construction hypermarkets from the USA, and the Weather Channel App.
Starting application
You can earn on mobile apps in many ways. However, it is necessary to create a comprehensive marketing strategy because without it, your products will be in the deepest depths of the App Store or Google Play. It is worth the effort, according to TechCrunch portal, in 2019 the total number of downloads of applications from online stores was 204 billion. Thus, it is worth fighting for your piece of the market. However, if you want to be financially successful, you have to start thinking about monetizing the application right from the very idea.
The whole project will be developed for you in a professional and transparent way by KISS digital. Do you want to find out how to create a mobile application, which you can earn money on? Contact us!